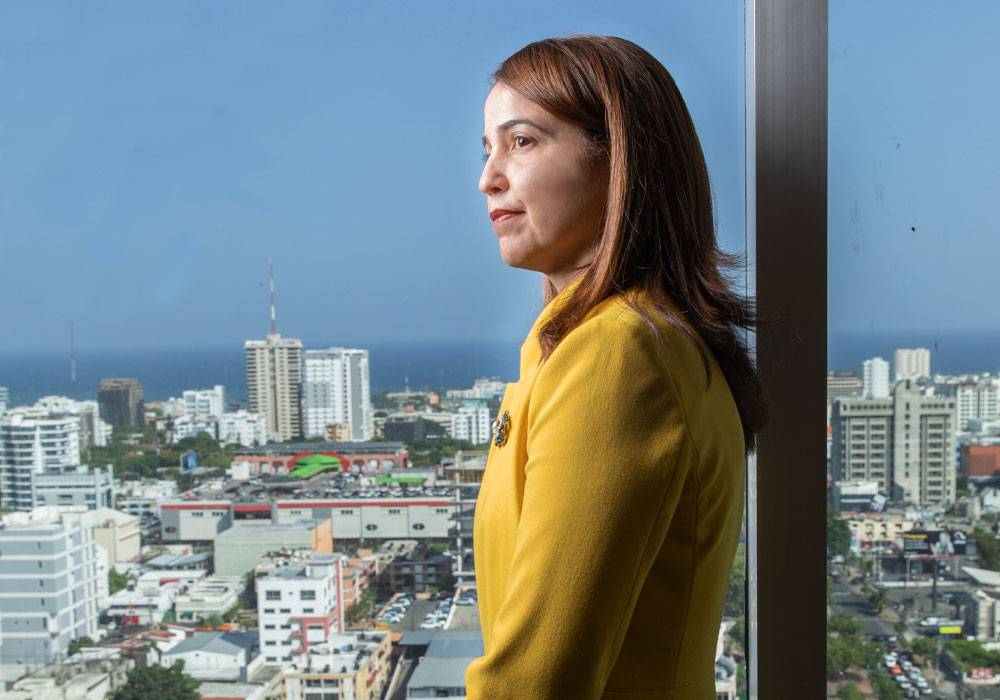 ANYARLENE BERGÉS: "INICIA IS A FIRM THAT INVESTS IN DISTINCTIVE TALENT"
---
"IT IS NO LONGER A GROUP OR A FAMILY COMPANY, TODAY, THEY ARE JUST INICIA, AN ASSET MANAGEMENT FIRM WHICH HAS EVOLVED FROM ITS 150 YEARS IN THE DOMINICAN REPUBLIC, AND IN THE LAST DECADE HAS FOCUSED ON BOOSTING SEVEN PLATFORMS RELATED TO FINANCIAL SERVICES, ENERGY AND INDUSTRY, TOURISM, AND REAL ESTATE, MEDIA, FOOD, BEVERAGE AND RETAIL, EDUCATION, ADVISORY AND ASSET RECOVERY MANAGEMENT. TO LEARN MORE ABOUT THIS FIRM, CONTACTO MAGAZINE IS COVERING AN EXCLUSIVE WITH ANYARLENE BERGÉS, VP OF GOVERNMENT RELATIONS, COMMUNICATIONS AND SUSTAINABILITY OF INICIA, WHOM HAS BEEN FOCUSING – AMONG OTHER GOALS – ON ADDING VALUE TO ASSETS UNDER ADMINISTRATION.
13-08-2019, by Dusan Piña Valenzuela
Anyarlene Bergés joined INICIA in 2017, and soon after, she assumed a series of projects of great strategic importance to the firm. However, in April last year, she made a milestone move in her career: she assumed the role of VP Government Relations, Communications and Sustainability at INICIA.
Since joining the firm, Bergés showed leadership and commitment with the INICIA strategy, which aims to add transcendental value by impacting the sustainable development of the communities INICIA invests in.
"It was a great opportunity…INICIA is a firm with over 150 years in Dominican Republic. It began as Grupo Vicini or Casa Vicini, actively involved in the agribusiness and commercial trade, later diversifying into different sectors of the economy, all of them closely tied to the growth our country is experiencing. It was truly a great opportunity. I really see it as the chance for a woman to drive forward a business that can impact the country's economic growth, since we invest in key sectors of the national economy", Bergés stated during her interview on the 21st floor of the Real Intercontinental Hotel of Santo Domingo.
To learn more about this lawyer by profession, with a Master's in Commercial Law from the Sorbonne University, and a Master's in Leadership from the Harvard Institute of Politics of Harvard University, in the United States, and whom for 15 years managed the Democratic Governance portfolio of the United Nations Development Program -UNDP- in the Dominican Republic, CONTACTO hosted an exclusive with the executive to learn about the present and future of one of the most iconic firms: INICIA.
2017
Anyarlene Bergés joins INICIA, and soon after, she adopted a series of projects, of great strategic importance to the firm.
Anyarlene, you've been at INICIA for some time now, what does this recognition mean to you?
"Like I said, it is an opportunity. I have 15 years experience in the U.N, as officer of Democratic Governance of the UNDP, with a vision focused on strengthening public institutions.
At the UNDP I had the chance to understand the region and was able to understand well how government agencies work. Honestly, I thought my career had "peaked" already, for I had reached the top senior level within the country program. To continue growing, I would have had to relocate within the region. But the opportunity came up thanks to internal generational changes in the firm, so, I interviewed for the job, made it to the finals, and was chosen to be part of the team; it was a comprehensive, lengthy and thorough process.
Like I said, I see it as a great challenge. This firm has many requirements in many sectors, with a very well-defined internal structure, that because of our business model, government relations are managed by the department I head, hence the great challenge.
Recently, I marked my first year as VP, and it has been a great experience, a year full of lessons, and I thank the trust and support bestowed upon me all this time".
Were you surprised? Were you expecting it?
"Honestly, when the selection process kicked off, I did it to try it out and learn. I said to myself: "it's got to be something extraordinary to work and learn from this firm, and the selection process on its own is an experience. The process took a little over a year, I didn't really have greater expectations. As I passed each stage, my eagerness grew, and I told myself "I can do this", it was a wonderful surprise, to me and to the U.N, leaving with open doors and vast experience.
What are your duties within this new position in INICIA?
The department's strongsuit -the Government Relations area- is the relationship our partners and affiliated managers have with government agencies, which at the same time is closely linked to communications. INICIA isn't a firm that "advertises itself", our interest is to position assets under management through the different platforms. We are focused on the Northern Latin America Region- NOLA-, aiming to create long-term value for our investors, clients, partners, and associates.
ASSET MANAGEMENT
"This beginning served as foundation to what is known today as a diversified asset management firm, with an internal governance structure that is transparent – a key component thereof, which allows the sustainable and efficient growth of all investments. Its shift from VICINI to INICIA is the result of an evolutionary change, resulting from the maturity and growth of the firm, more focused every day on creating sustainable value, by relying on key talent", Bergés expressed.
Anyarlene, how can we explain to the Dominican public what INICIA is and what sectors it invests in?
"INICIA is a private asset management firm, that arose from an evolutionary process comprising the last 150 years, and that since 2007, has focused on investing through seven key platforms. The firm assessed its in-country assets and the same were clustered per their nature, hence the seven key platforms.
For example, the Energy & Industry -E&I- Plaftorm, manages assets from the sector, such is the case of the CAEI Sugar Mill, EGE Haina, San Pedro BioEnergy -SPBE-, among others; the Tourism & Real Estate -TRD-, clusters the land bank, as well as, all real estate developments, food, beverage and retail, media – this last platform being the latest one- encompassing Media Investments such as Diario Libre, Escogido Baseball Club, Lantica Media, Pinewood Dominican Republic Studios, among others. There is also the Financial Services, Education and Asset Recovery platforms.
What is INICIA's vision?
INICIA and its partners share a long-term vision. Its short-term vision is at 25 years. So, it's good to clear this, so that the public understands that the investments we make, are always thought long-term. It's worth to point out that INICIA doesn't only focus on the D.R., but also in the NOLA Region, which are the countries located North of Latin America, excluding Mexico and Brazil.
COUNTRY INVESTMENTS WHERE INICIA IS PRESENT
In what NOLA countries are INICIA's investments focused?
Although each investment is different in each country, these
are the countries we are currently doing business in:
*Dominican Republic
*Panamá
*Puerto Rico
*Colombia
*Salvador
*Guatemala
*Perú
*Cuba
Are you considering the possibility of investing in other countries?
We are always exploring new markets, with hopes to invest in the fastest growing markets, that show the best potential for stability and opportunity. Partners and managers sometimes trigger new investment opportunities outside of the NOLA Region, which is our current mandate, and yet however, partnerships could be established that would allow us to enter this region.
There's the worldwide trend going on about sustainable growth and adding value to business through sustainability. Do you see this as a "utopy" in the case of the DR, because not all businesses focus on that type of development? How did INICIA perceive this?
"First of all, to gain insight on sustainability and sustainable value, you need to create that awareness internally, and especially for the partners, the CEO, the VPs, Directors, Managers and the technical team, all staff that are part of a company need to believe in it regardless. In the case of the Dominican Republic, we're still developing the legal framework that will boost investments focused on sustainability. Matter of fact, we recently hosted the 2nd Corporate Sustainability Forum where we covered how to stop seeing sustainability as a philantropy issue but a profitable one. So, it has been a challenge, but it's a process, and it's the process what renders the money.
We've got direct investments that drive impact over the SDGs, such as the Larimar I and II Wind Farms, and San Pedro Bio Energy. We've also implemented some internal initiatives, like electric cars, as we promote and roll-out sustainable decisions.
We're even developing an Internal Asset Index based on their impact over the SDGs, because we realized that in order for the country to meet them, the private business sector needs to play its part, because of our impact over the different sectors of the economy. We've developed these internal indicators -that we are in process of implementing- to self-assess".
THE INICIA DIFFERENCE
Anyarlene, what is INICIA's differentiating factor locally and abroad?
We focus on selecting top talent to add sustainable value. We identify a select number of sectors and industries with long-term high-growth potential throughout the region. We invest in these sectors through our key platforms by merging with skilled and highly-experienced talent in their respective fields and industries".
How does INICIA add value to its asset portfolio?
The firm has a history over a century old; it has evolved and adapted to meet changes and requi-
rements in the national economy and its different industrial times. This proven capacity to transcend in
a sustainable manner has allowed us to become a partner that adds experience and positive reputation.
With all this in mind, we want our values to reflect in a transversal way in all our investments, and just
as we recruit key talent in our investment sectors, we aim for those talents to share those principles and
values".
Why do you focus on the NOLA Region?
"The NOLA Region as we call it to prioritize our investments, is attractive to the firm because of its
mid- markets, in some cases overlooked by major investors, hence giving us the chance to be highly
competitive as investors. This is a region rich in potential, that despite its challenges has great room to
grow, and a firm like INICIA, with its long-term investment philosophy and experience, holds the upper
hand to invest in these markets".
Considering the diversity of strategic sectors you're involved in, how do you perceive the
in-country productive apparatus versus the region?
"Dominican Republic has upheld a stable economic growth in recent years, above the region average.
This economic stability has provided growth opportunities for all Dominicans, and especially for new
Investors. We've seen this as a shared opportunity.
The new legal frameworks have promoted investments in sectors which are brand-new, since promoting
Investments in renewable energy, and the consolidation of the film industry. For example, the film sector felt its boom
After the approval and enforcement of the Law on Film Tax Incentives (the Film Law) 108-10 to promote cinema activity.
With this new enforcement, a new incentive was set for international productions, which get a 25% return of their total investment in the form of transferable tax credit. This has grown the number of international productions, and helped develop an entirely new national talent industry.
RELATIONSHIP WITH THE PARTNERS
Anyarlene, you joined INICIA in 2017. What projects did you immediately kick off with?
"The first project was understanding the firm, its corporate governance, its goals and long-term vision, and its internal values. These values were essential to understand and adopt, and later of course, obviously, consolidate all departments and put all work plans in each platform to action alongside the partners and affiliate managers.
"Some think it is a firm where the decision-making is the duty of its 4 partners; but everything is discussed with the managers, through the respective strategy and investment committees".
How does it feel to work with the 4 partners?
"They are firm executives; they work as leaders as well as partners; there is no such difference between any partner in similar spaces".
Did you receive full support once there?
Honestly, yes, although INICIA is very focused; everyone is clear about their duties, and the support required to roll-out all work plans. The support has always been there, especially because once you understand the action plan, vision and values, it's all a matter of execution.
When you joined the firm, you were appointed Adviser representing INICIA in the many important Boards of the Dominican Republic, for example, in the Association of Industries of the D.R (AIRD), and FINJUS; what is your specific role?
"Recently, also with the Chamber of Commerce and Produciton as deputy-treasurer, and member of the Chamber's Conflict Resolution Committee. Bottom line is that these are all very important spaces, because they are platforms where the private sector agrees on topics that drive direct impact on the sector, and where dialogue is key.
There are Bills for Acts and Initiatives that impact all of us. Merging the private sector under one voice is extremely important, especially in everything respecting the Association of Industries, an important business guild nationwide whose aim is to solidify the national industry.
The FINJUS role is more of a "part of my heart" because of my background in Democratic Governance. I'm also a board member, and honestly, its goal is more substancial and conceptual, because they already focus on the legal strategy and advocacy to promote Bills that are solid. At the same time, I've seen these spaces are key for the private sector to partake in, to hold a cohesive dialogue before any potential proposal pitch.
INICIA promotes a culture of transparency and responsibility, where trust is fundamental. Do you believe in those values?
"Obviously, those values were chosen by the partners. INICIA's values are important as transversal values, also, we have the happiness, transparency, everything required to create value. I'm constantly asked about the "happiness" bit because it's not something you nomally see in an asset management firm. But I've been told – since I wasn't part of the company during the transition from VICINI to INICIA- that these values were jointly picked by the partners. Here, humility is a must, because you represent a family with said traits, and you need to love what you do".
Do you feel that happiness in INICIA?
"Yes, 100%, and as I said, there's so much work to do and little room for anything else outside of work plans, but it definitely is a very comfortable and harmonious work environment".
Do you have any activities that focus on the happy wellbeing of the team?
"Yes, the HRM Department handles that. We have a very good team, that oversees everything and everyone's wellbeing".
---
ANYARLENE BERGÉS AND CHANGE
What made you switch, and go work for INICIA, after such a successful career in the UNDP?
"I had the chance to grow professionally in the UNDP, learn how the State operates and its internal architecture.
I valued everything I learned about the strengthening of State entities as key to sustainable development.
However, I knew I had come full circle with that professional step, and that the time had come to grow more, and at the same time, gain more insight, hence the switch from an international organization to the private sector. No better move than joining INICIA, a firm with influence over various sectors, that, when seen from a different angle, impacts the country's development.
You spent 15 years in the U.N.; what is the difference between the U.N and INICIA, and what appealed to you most when you joined INICIA?
They're both different yet similar in a few ways, especially in the case of Democratic Governance, where I managed a project portfolio focused on different key areas. When I joined the Government Relations Department of INICIA, I learned about the platforms and how they operate; I told myself: "Well, these are the big leagues; every project is different, because there are platforms that are energy-focused, while others deal with media. Their actions are thought long-term, and INICIA's goal is the greater good.
There's a philosophy at INICIA which says: "If the country doesn't do well, neither do we". This means the investment strategy is to always add value. We are an asset management firm that adds value, in a sustainable manner, by triggering the top talents. So, let's say that this strategy is what are tirelessly implementing, and it was very similar to the U.N strategy with regards to project execution".
What does it mean to you on a personal level to be the first woman to hold the position of VP Government Relations, Communication and Sustainability of INICIA?
"INICIA's culture of equity promotes growth and the development of its in-house talent, based on a series of criteria that can drive impact over gender. I never felt this might be an obstacle to my growth in the firm. On the outside, the Public Relations world is a male-dominated world, but these schemes are changing. It's just a matter of time before we see more women occupying these roles".
Just like Juana Barceló at Barrick Pueblo Viejo, you're both lawyers. Is it a plus for you to know the legal aspect when structuring a business deal, versus other professionals that majored in Business or Business Engineering?
"It depends where they are, because if I worked directly on the investment and equity analysis, it wouldn't be, yet, however, when defining the roll-out and management strategy, then definitely. When it comes to Government Relations, it is a plus. I can't imagine assuming this position and the challenges it entails without my background in law. One needs to have thorough knowledge of all the minimum rules of the State, and that helps, even when making decisions about impact levels. The legal part helps out a lot".
When talking about your leadership functions, what are the values you promote within your team?
Asides the firm's values, responsibility, humility, transparency, happiness, and reliability; I promote a horizontal management structure and team empowerment. I like to feel that the team trusts and believes in what they do and feels they can voice their opinion. I'm highly results-driven and practical. If I had to set three core values to promote directly then: Honesty, Ethics and Responsibility.
ANYARLENE BERGÉS ON THE ROLE OF WOMEN
How do you do balance all aspects of your life?
"The key to balance is organization. I'm extremely organized, and that's the only way I can attend all aspects of my life. This is very complex when you have such a demanding job and a young family. However, I think that organization is the key to everything, and of course, learning to delegate.
Delegating has been the hardest thing for me to learn, especially in my family life; I grew up believing that the mother is the sole responsible for raising the children, and It isn't like that at all; they are shared responsibility, and splitting this duty with your spouse should never make us feel guilty.
I truly believe that we can have a successful professional life and a fulfilling life, it's all about finding that balance and knowing how to handle it".
Because of the position you have, and the fact that you're a woman, you are leaving your mark in INICIA. What legacy would you like leave there?
"I don't only think about INICIA, I think about my professional legacy. I constantly advocate for women in decision-making positions; I strongly encourage the incorporation of women in any type of space, even political roles and their growth in all decision-making processes. If I have to appoint someone for a position, I equally assess male and female candidates. My team understood that when I was told "this isn't a woman's job", they couldn't bring me a group of CVs without an equal number of male and female candidates to assess. We don't discriminate in INICIA; we are an equal opportunity employer.
---
Source: http://revistacontactord.com